Swift observation
South Vendée Atlantic shelters many species of both migratory and residential birds. There are a number of observation posts devoted to ornithology. Lovers of nature, wide open spaces and seascapes… feast your eyes! Indulge in the high diversity of natural sites.
ORNITHOLOGY: Where to go birdwatching?
There are several observation points: sites equipped with spotting scopes, an observation platform, and hideouts in the heart of the countryside. In all, there are six observatories offering free access, threeNational Nature Reserves, two Regional Nature Reserves, two biological Reserves and ten "sensitive natural areas" certified by the department where you can peacefully observe the birds' majestic ballet or mating dance, or take your first steps in ornithology.
The Baie de l'Aiguillon is teeming with well-kept secrets. This remarkable heritage only reveals itself on the most unlikely of paths, promising a true adventure to enjoy in every season! It is a stopping place for migrating water birds that spend the winter here :
45,000 limicolae (variable sandpiper, red knot, avocet, black-tailed godwit, red godwit, grey plover, Eurasian curlew, redshank, etc.),
30,000 anatidae (greylag goose, black brant, white-fronted goose, barnacle goose, mallard duck, pintail duck, widgeon, common teal, common shelduck, etc.),
… and many others that settle in the Bay.
Only got eyes for the bluethroat?
Then you must go to the Pointe de l'Aiguillon-sur-Mer. This site is an excellent place for birdwatching! Every year from September to November, the French League for the Protection of Birds sets up a migration camp here to count the birds passing over the Pointe. More than 250,000 birds, representing 86 different species (from tree finches to red kites) have been observed.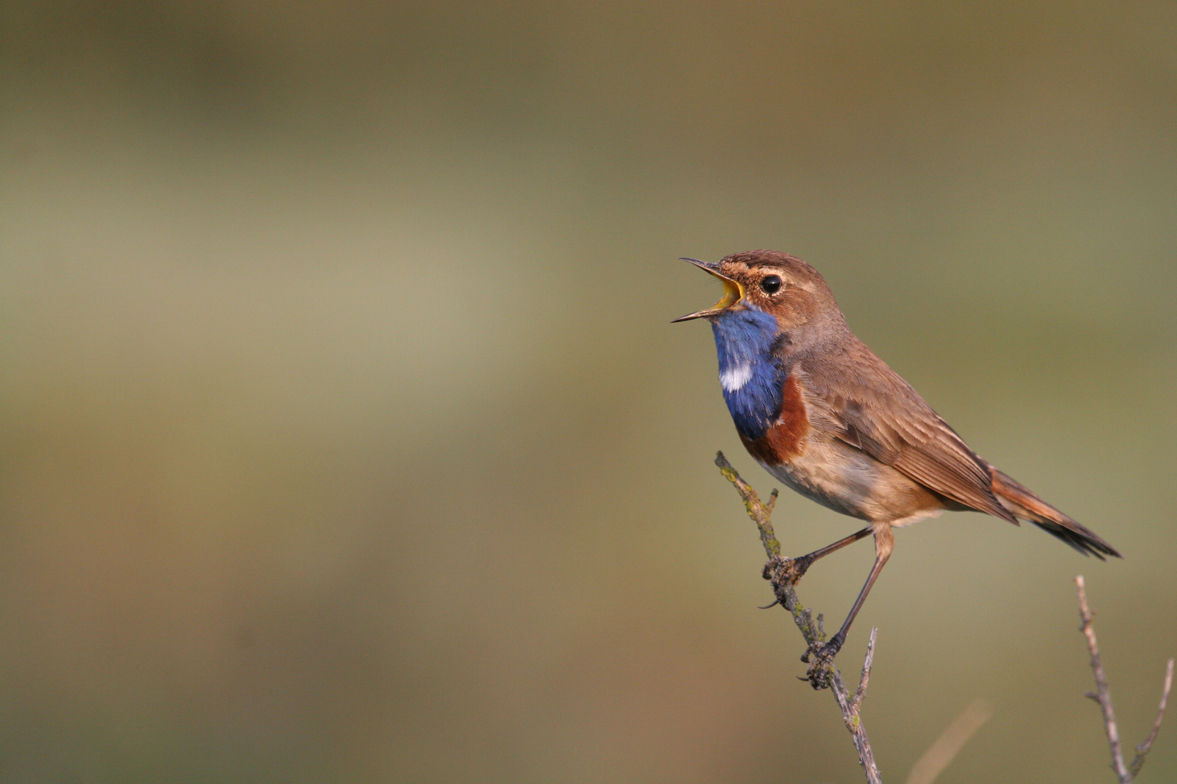 Want expert advice from a nature guide?
Then head for the Michel Brosselin Reserve! From the sheltered observatory equipped with spotting scopes, more than 140 species can be watched here in all seasons :
the famous storks in their perched nests, wild geese, Eurasian spoonbills, marsh harriers, Montagu's harriers, common kestrels, peregrine falcons, black-winged stilts, avocets, lapwings, black-tailed godwits, little egrets, cattle egrets, common cranes, etc.
Activities and courses in drawing or  photography are organised all year round, allowing visitors to enjoy the magical spectacle of the migrating birds as they arrive or on their departure, as they awaken at dawn or settle with the setting sun… The nature guides are experts in ornithology and they are here to help you.
The wooded prairies of ash, hawthorn and blackthorn, in the departmental Biological Reserve of Nalliers-Mouzeuil, are home to six species of heron (grey heron, purple heron, black-crowned heron, cattle heron, little egret and great egret) that are easy to observe here. Listen carefully, it's not unusual to hear woodpeckers (green woodpecker, great spotted woodpecker) drumming with their beaks to drive insects out of the bark.
Prefer the vineyards?
Then seek out the linnet, bunting, lark, goldfinch and hoopoe. On foot or by bike, you can't miss them. To complete your adventure, go in search of the stone curlew, the strange wading bird of the dry plains.
As you've gathered, bird-watching is possible whatever the season in South Vendée Atlantic !
Don't Forget ! Bring binoculars, a camera and a sketch book, to live your bird-watching adventure to the full.