Trip on the River Lay…
Without warning, we suddenly decide to pop the canoe in the boot (or on the car roof) and go for a relaxing day on the River Lay. It's lovely, gliding to the sound of lapping water. A light breeze and a sunny sky enhance the beautiful landscapes of South Vendée Atlantic. But it's hard to choose where to embark! We could go to the Mortevieille lock and head up-river, passing under the Eiffel bridge at Lavaud and towards Mareuil-sur-Lay-Dissais? Or we could go from Noailles bridge at Île in La Bretonnière-la-Claye. In that case we'd go down-river towards the Baie de l'Aiguillon and pass under the little stone bridges… On second thoughts, let's head for the ocean…
Sky, sun and sea…
As you glide on the water, time seems to stand still. In the calmness, you can observe the landscapes and the animal and plant life. As you paddle you'll see grey herons, water irises, frogs and other species. Further along, fishermen wait patiently for their rods to quiver! After 2 km, we arrive at the old stone bridge dating from the 18th century. This bridge is so beautiful, we never get tired of seeing it and enjoy taking photographs of it in different seasons. The journey continues until we find the 'best' place to accost for a picnic!
Picnic on board?
After 5 km, we find ourselves at a crossroads near the Porte du Lay, which feeds the Chenal Vieux, an old arm of the River Lay. We've now been rowing for 7 km and 3 1/2 hours. So this is where we'll stop and spread our checked tablecloth on the bank. There's no concrete jetty here, just an easily accessible river bank. But you must keep your balance as you step out of the canoe. A grassy field, trees for shade and even a half pipe we can use as a seat… Our make-shift picnic area is perfect!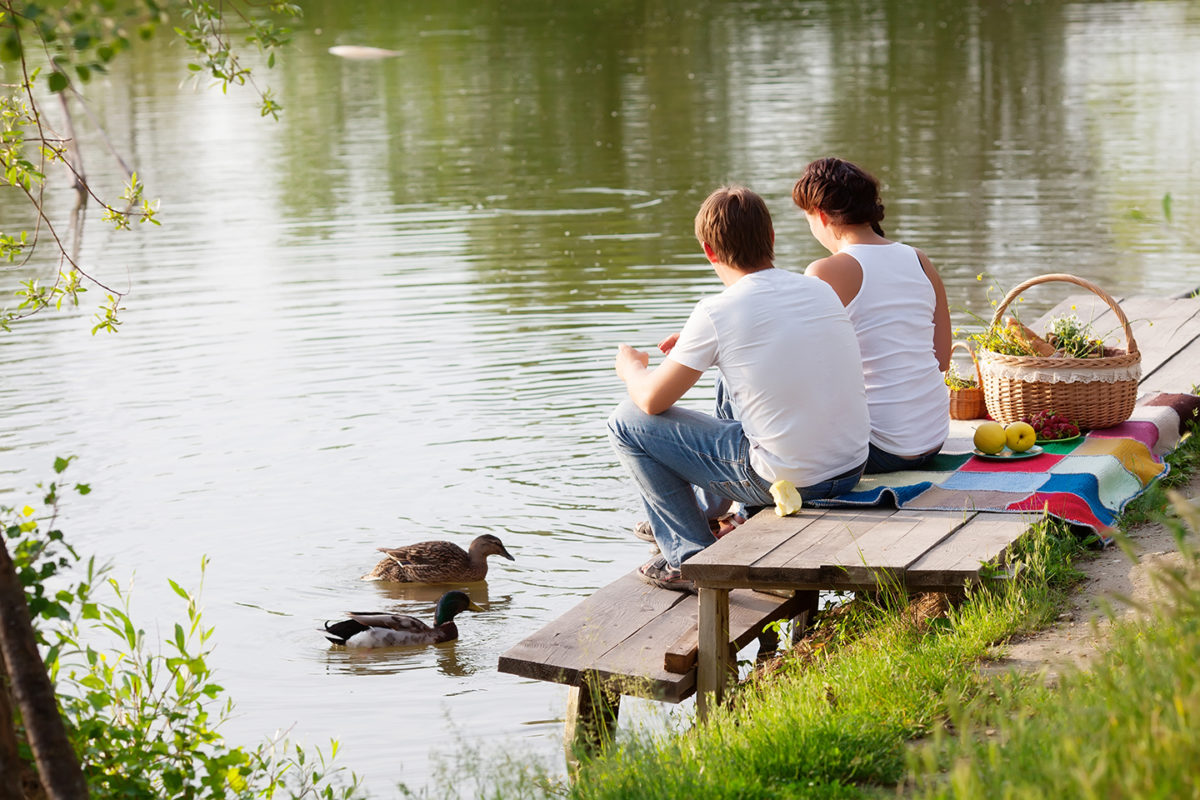 Return trip… by canoe or on foot?
Now we have to think about getting back… If you have some very helpful friends, you can continue your descent to the Baie de l'Aiguillon on the Atlantic ocean. They can meet you there and you can enjoy the shores. Otherwise, time to turn back!
On the return trip, we decide to stop at the Porte du Fossé Neuf between Curzon and Lairoux. Located after the Désiré bridge, this hydraulic structure connects the two sides of the municipality of Curzon. From here, you have an original view point over the municipal marshes of Lairoux and Curzon. It is a humbling, feel-good experience! Finally, we continue paddling until we reach the Noailles bridge. Only 4 more kilometres and we're there.
Want to try?
If you find the River Lay a little daunting for a first trip, then try the intimate atmosphere of the marsh canals… Don't have a canoe? There are canoe rental outlets who will give you maps to ensure you don't get lost in the maze of canals. One last thing…